"I am glad it cannot happen twice, the fever of first love. For it is a fever, and a burden, too, whatever the poets may say. They are not brave, the days when we are twenty-one. They are full of little cowardices, little fears without foundation, and one is so easily bruised, so swiftly wounded, one falls to the first barbed word."
Book:

Film:
Written by Daphne du Maurier and published in 1938, Rebecca is a classic English novel that follows the narration of an unnamed protagonist who, whilst working as the companion to a rich American woman vacationing in Monte Carlo, meets a wealthy widowed Englishman named Maxim de Winter. When he suddenly proposes her hand in marriage, she agrees to accompany him to his mansion, the beautiful West Country estate Manderley, but soon finds that the memory of his first wife, Rebecca, still maintains a grip on her husband and the servants, especially the housekeeper Mrs. Danvers. Haunted by her memory, a mystery that lives on even after Rebecca's death begins to unravel.
As the novel that made du Maurier one of the most popular authors in her day, and one that is still hugely celebrated today, Rebecca was originally adapted by Alfred Hitchcock as his first American project in 1940, with screenplay written by Joan Harrison and Robert E. Sherwood. The film starred Laurence Olivier as Maxim, Joan Fontaine as his second wife, and Judith Anderson as Mrs. Danvers, and it was the opening film at the 1st Berlin International Film Festival in 1951 after winning two Academy Awards, including one for Best Picture.
Both film and novel open in the same way, with the famous opening line, "Last night I dreamt I went to Manderley again." From then on, however, a lot goes amiss. Whilst the adaptation sticks pretty close to the novel in terms of plot, there are many key scenes that are skipped over. It's a point that can always be made when analysing adaptations, but it is nonetheless the biggest reason that a film can lose its impact. With Rebecca, even small details, such as the guests costumes at the grande ball, are altered. Such small tweaks may not mean much to the typical viewer, but it's scenes like these that Du Maurier describes so well in the novel that she manages to already paint the picture for you, making these alterations, therefore, seem careless.
The main flaw that can be found with the film adaptation is that there is not enough emphasis put on the characters comparing the new Mrs de Winter to the late Rebecca, which discourages the audience from feeling any sympathy towards Fontaine's character on screen, especially in her relationship with Maxim who, in the book, you would begin to doubt yourself. Du Maurier's writing style throughout her novel is so engrossing that you become captivated in Mrs de Winter's character and you can feel the pressures from those around her. In the film, these emotions are far too played down to have the same effect, and because of this, the huge twist of revelations at the end don't come as much of a shock.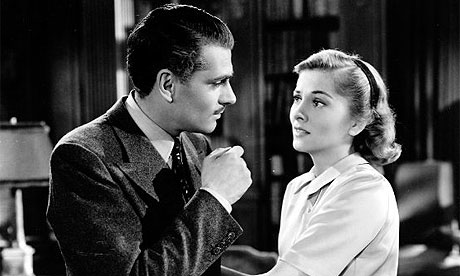 But not all can be criticised. As a gothic romance, both the film and novel are very haunting, yet they each do this in very different ways. The novel is haunting in the sense that you are made to believe that Rebecca's ghost could appear at any minute. Through Du Maurier's words you can feel the strong presence that she still has over the household and with everybody that still resides there, whilst the film creates a fearful presence in its bleak imagery, with visuals of the forest around the estate and of Mrs. Danvers' dead stare coming to life casting their own dark shadows.
Another strong quality of the film is that the characters are all played extremely well, with each of the actors fitting their roles suitably. Fontaine provides her role the perfect amount of naivety, whilst Olivier does the same with Maxim's subtle arrogance, although they are both characteristics that need to be read to fully understood. It is Anderson, however, that makes her mark in the film, almost turning her scenes into a piece from a horror film with her terrifying performance as the closest character the film has to an antagonist. Again, it is only the emotions that these characters emit that let their parts down slightly.
Set to be adapted again in the next couple of years, which was announced by DreamWorks in February, I hope the upcoming adaptation will give a better look at Cornwall, put more emphasis on the surroundings of the estate, especially the Happy Valley and the driveway leading up to the building, and, most importantly, put more focus on what Mrs de Winter is thinking, as it is rarely the same as what she is acting out. Nevertheless, it is film I am very much looking forward to, and the book is one I will read many more times in my lifetime.